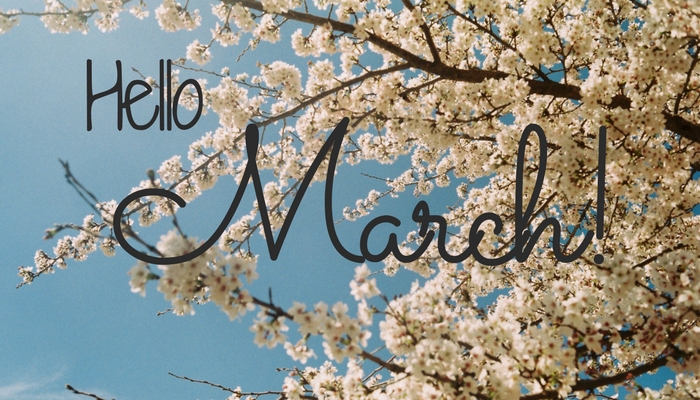 Spring may have... Sprung.. but that doesn't mean it's time to go out and play in the sun. We have made a great list of a few things happening in Eugene this month! So while you're waiting for the rain(sleat, snow, cold wind..etc..) to stop check out some of the great things that Eugene has to offer you and your family!
First Friday ArtWalk in Downtown Eugene
Friday, Mar. 3 | 5:30 pm – 8:00pm | The New Zone Gallery | Free
guest-hosted by Bob Hart, the Executive Director of Lane County Historical Museum and Tony Meyer, a Eugene Opera Board Member.
Winter Farmers Market
Saturday, Mar. 4 | 10:00amm – 2:00pm | Corner of 8th and Oak | Free
You don't have to wait until spring for fresh, local produce. Shop with the Lane County Farmers Market on Saturdays in February and March, right in the heart of Eugene. Local farmers and food artisans offer vegetables, fruits, meat, plants, sauces and plenty more.
Get Cooking: Sausage Making with Pig & Turnip
Sunday, Mar. 5 | 3:00pm – 5:00pm | Sprout! Food Hub| $17 – 20
Join executive Chef Natalie Sheild of Pig and Turnip for a sausage making class using locally sourced meats. Learn the basics of sausage making from selecting and grinding meat to stuffing the casing. You will make two bratwursts to take home. Space is limited and pre-registration is required.
Eugene Women in the Blues
Wednesday, Mar. 8 | 7:00pm | Whirled Pies: Downtown | Minimum $5 donation
Vipertoons Productions and Whirled Pies Downtown present Eugene Women in The Blues, a benefit for Womenspace on International Women's Day, Wednesday. The benefit features Eugene area blues musicians.
Teen Board Games
Friday, Mar. 10 | 4:00pm – 5:30pm |Eugene Public Library: Bethel & Sheldon | Free
Teens: drop in to play board games at Bethel and Sheldon Branches of Eugene Public Library on the second Friday of every month. For ages 13 – 17.
38th Lane County Home and Garden Show
Sunday, Mar. 11 | 10:00am – 8:00pm | Lane Events Center | Free
The 38th Lane County Home and Garden Show has springtime on every aisle! Shop and compare 325 exhibits featuring experts, products and services for homes and yards. Meet Don Engebretson, The Renegade Gardener! Learn how-to at 50 home and garden seminars. Spring gardens are bloom!
Memoir Writing Workshop
Sunday, Mar. 12 | 2:00pm – 4:00pm | Eugene Public Library: Downtown | Free
Join Melissa Hart for a lively workshop to learn how to get started writing a book-length memoir. Participants will consider examples from published memoirs to choose a way to begin; identify key themes and/or historical eras in their lives; and learn how to use details along with the classic narrative arc to shape a memoir.
Herbal Medicine Making
Friday, Mar. 17 | 2:00pm – 4:00pm |Ophelia's Place | $10 - $20
Have you ever wondered how you can use the plants around you as medicine? This new workshop will give you hands-on experience in making your very own lip balm from wild plants. You will learn basic plant identification, go on a plant walk and complete plant journaling and drawing. Advance registration is required. Spots are limited. Registration deadline is 3/10. Girls ages 12-18.
Spring Sip and Shop
Saturday, Mar. 18 | 12:00 pm – 5:00pm |Pfeiffer Winery | Free
Bring your friends for an afternoon of sipping and shopping! Enjoy wine tastings, food and multiple local vendors. Come enjoy the day at the beautiful Pfeiffer Winery in Junction City
Upstart Crow Studios: Disney's Beauty & The Beast, Jr.
Sunday, Mar. 19| 3:00pm | Hult Center for the Performing Arts| $20 - &28.50
Upstart Crow presents Disney's Beauty & the Beast Jr., a musical classic that opens the door to wonder and enchantment for every age. Belle, finds herself imprisoned to save her father's life from the rage of a hideous Beast. The castle's enchanted staff helps Belle to look beyond the Beast's exterior, and despite her fears, she begins to see the kind heart and soul that hides the true prince inside. Senior and youth discounts available.
Teens: Unlock-the-Box
Friday, Mar. 24 | 4:00pm – 6:00pm | Eugene Public Library: Sheldon | Free
For teens during spring break! Work as a team to find clues and solve puzzles to unlock the box where Harry Houdini hid the secrets of his most dazzling illusions. Pre-register in person or by phone, starting one week before each session: 541-682-8316.
World's Largest Garage Sale
Saturday, Mar. 25 | 7:00pm – 9:00pm | Lane Events Center Exhibit Hall | $2
The World's Biggest Garage Sale is happening in Eugene, Oregon. Presented by Cumulus Broadcasting.
Thrist 2 Create Pain Party "Lavender Splender"
Sunday, Mar. 26 | 1:00pm – 2:00pm | The Pub at Laurelwood Gold Course | $35
Be inspired by the rolling hills of the golf course at Laurelwood Golf Course to paint this beautiful scene. All supplies and step-by-step instructions are included. Pre-registration required.
Spring MAKE
Monday - Friday, Mar. 27 - 31 | 10:00am – 4:00pm | Science Factory | $5
The Science Factory is turning Spring Break into Spring MAKE! Join them each afternoon in the Exhibit Hall for a different activity that will entertain kids for three hours. Activities include tinkering with toys, robotics, 3D printing and design, music, structures and more. This drop-in program is included with Exhibit Hall admission. Members are free.